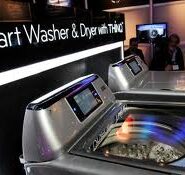 Smart Appliances a $35bil Market
As inovations in technology continue to advance, their impact on our homes will advance as well.  Today utilities companies around the world are deploying smart meters.  As a result, smart appliances (which use an intelligent power management strategy to optimize the load on the power distribution grid) will have a significant role to play in realizing the vision of the smart grid.  Currently, these appliances are limited in terms of availability and types of products, but they will start to represent an increasing share of the total appliance market after 2015. On February 6, 2013, Pike Research, a part of Navigant's Energy Practices, announced the results of their latest smart appliances study.  They found that the Smart Appliance Market will grow from $613 million in 2012 to $34.9 billion annually in 2020.
Smart appliances allow the homeowner to control appliances from their computer, smart phone, or television monitor. Many of these appliances are "smart grid ready", meaning they would be able to connect to a future smart grid.  This "high-tech" engineering enables them to run during off-peak hours, when electricity is cheaper, thus saving the homeowner money in utility costs. 
Currently, the market is very small, because there are very few smart appliances commercially available.    In a previous survey, Pike Research discovered out of 1,001 American consumers, 70% of respondents were familiar with smart grids and 76% were familiar with smart meters.   Therefore, as market demand increases look for there to be a wider selection of appliances by type, by brand, and by price range.   However, in the same survey, only 49% were aware that their utilities offer home energy management services, and less than 40% had a high level of interest in "off-peak" demand response programs.  This simply reveals that it will take time and education to bring smart appliance use and awareness to the forefront of consumers' minds.
One interim technology, which could serve as a bridge to greater awareness of smart appliances, is smart plugs, according to the report.  These devices act as sensors for conventional appliances and electronic devices, enabling consumers to track electricity usage by the outlet.  While the number of smart appliances remains low, and prices of available models remain high, smart plugs may be able to provide consumers with a way to save money on energy bills while familiarizing themselves with smart household technology and its benefits.
However, despite lack of availability and awareness, the number of smart meters and smart grid-ready homes is rapidly increasing. In May 2012, the Edison Foundation's Institute for Electric Efficiency (IEE) released a report, "Utility Scale Smart Meter Deployments Plans, & Proposals", which found that one-third of U.S. homes had smart meters.  The study found that 36 million smart meters have been installed in homes, and IEE estimates that about 65 million smart meters will be deployed by 2015. This accounts for half of American households.
While consumers may not completely understand smart grid and "off-peak" demand response technology, their interest in smart appliances is strong.  Another Pike Research survey found that almost half of consumers were interested in managing energy consumption in their homes and interested in home energy management products and services. Forty-five percent were interested in smart appliances.  Therefore, Pike Research estimates that the smart appliance market will experience strong growth over the next 7 years to keep up with growing smart meter adoption and consumers' interest in home energy management. 
The "Smart Appliance" report, examines the current state of the global smart appliance market, including an analysis of barriers and drivers, enabling technologies, regulatory factors, and key industry players.  The study features detailed market forecasts of smart appliance unit shipments, revenues, and penetration rates, segmented by appliance product category and key world regions, through 2020.  Key industry players are also profiled in detail.  An Executive Summary of the report is available for free download on the Pike Research website.  www.pikeresearch.com