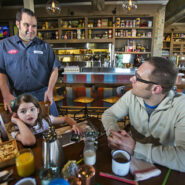 Casual Dining now on Arizona resort menus
The Four Seasons Resort Scottsdale recently opened a whimsical, comfort-food restaurant with a soda fountain, shuffleboard table and regional American specialties such as chicken-fried buffalo with buttermilk mash.  The venue, Proof, is a radical departure in dining at the AAA Five Diamond property and a first for the luxury hotel chain. It's also an example of a casual dining trend taking hold at luxury resorts Valley-wide.  "We realized that our guests wanted a restaurant where they could eat in their T-shirt and shorts. It's not that formal dining is gone completely but rather that the demand is increasing for approachable foods at approachable prices in a family-friendly setting," Executive Chef Jesse Hansen said of the new restaurant.
After a five-year struggle to fill seats and make fancy dining rooms profitable, many resorts are moving their high-end restaurants down-market or adding informal dining options alongside them.  Economics and lifestyle are driving the move away from starched white tablecloths and china to wood tables and pottery, from four-course dinners to shared plates, according to industry experts.  Diners no longer have an appetite or pocketbook for $100 Kobe beef patties topped with foie gras.  Instead, today's business and leisure diner wants the price to be as good as the food.  "The consumer mind-set is toward value, and resorts are getting the message," said Darren Tristano, executive vice president of Technomic Inc., a Chicago-based market-research firm for the food-service industry. "They know that diners perceive the traditional resort restaurants as expensive and formal, so they are opening ones that are cheaper and more casual."
Experts estimate that diners can cut a dinner tab almost in half by eating at a casual resort eatery. The lower prices especially appeal to guests who stay several nights and have little desire or money to dine nightly at the first-class restaurant.  The resort trend dovetails with an industrywide boom in casual dining. According to market researcher NPD Group, casual dining will continue to outpace all other sectors through 2019.  Along with saving money, business and leisure diners at resorts have less interest than their grandparents in suiting up for multiple courses in formal dining rooms.
At Montelucia Resort and Spa in Paradise Valley, Executive Chef Michael Cairns recently opened Centro Lounge, a Southwestern-inspired bistro that meets an ambitious guest wish list: fresh, locally inspired food; small plates to share; entrees under $20; Wi-Fi access; and a light, bright, unpretentious space in which to enjoy a meal.  "People want technology in the dining room so they can check e-mail, watch TV or chat on the phone while eating," Cairns said. "We blew up the old model of resort dining and brought in the new."  The changes work for Francis Miller and her husband. The Lancaster, Pa., couple spend weeks every winter at the resort at the base of Camelback Mountain.  "We like that we have a casual, bright and light restaurant to grab something to eat," Miller said. "Guests watch sports, the food channel. It's a nice addition to have on the property."
Resorts also are banking that the hipper, casual eateries will prevent guests from spending their dining dollars elsewhere while enticing locals to the resort for a meal. The new casual model is midway between the rank-and-file coffee shop and formal dining room, replicas of innovative, one-of-a-kind, chef-owned eateries.  "Food is a critical part of a resort's overall profits, so it's important they keep guests on site for as many meals as possible," said Kristen Jarnagin, vice president of communications for the Arizona Lodging and Tourism Association.
The long run of good times for Arizona resort restaurants began stalling in 2008. That April, Mary Elaine's, for 20 years a showcase of luxury fine dining with decadent touches like purse stools, closed. The Phoenician replaced the restaurant with a partnership with superstar chef and international entrepreneur Jean-Georges Vongerichten for J&G Steakhouse.  Shortly after, two other high-end Valley resorts shuttered their decades-old, fine-dining rooms in favor of celebrity-chef spinoffs. The Marquesa at the Fairmont Scottsdale Princess turned into Bourbon Steak, a Michael Mina steak house; while the Chaparral at the Marriott Camelback Inn turned into BLT Steak, a Laurent Tourondel concept.  Diners view steak houses as a more casual alternative to the old-school, stuffier resort restaurants and a popular draw to business travelers dining on company expense accounts, hospitality-industry experts said.
But is casual resort here to stay? Predictions range from yes to passing fad.  Chefs such as Cairns are certain the days of dark leather, starched tablecloths and French continental fare are over forever. Yet Jarnagin believes formal dining, like most cyclical trends, eventually will return.  "Everything comes full circle, and when the good times roll, people will want that truly special meal that only a high-end hotel at a resort can offer," Jarnagin said.  Despite the growing popularity of casual dining, properties such as the Sheraton Wild Horse Pass and Resort have no plans to shutter or offer lower-tier alternatives to their upscale, showcase restaurants.  "Kai is part of our resort's identity and a way we share the Native American culture, history and legacy," said Stephanie Sanstead, spokeswoman for the Gila River Reservation resort. "Kai is here to stay no matter what happens at other resorts."
Article courtesy of www.azcentral.com